College Grants for Women
Today, women make up over 58 percent of the American college student body.
Although women now make up a majority of college students, it was not very long ago that women were barred from enrollment at most American colleges.
In fact, it was not until the 1980s that America made any real progress in accepting women in colleges. Before this time, American colleges were considered male terrain, and women were expected to fulfill traditional roles like motherhood.
Today, not only are women enrolling and graduating from college in unprecedented numbers, more and more women are taking on important, high-profile careers, even while juggling their family lives.
What could explain the rapid ascent of career women in the American college system? The availability of college grants and scholarships for high-achieving women played a key role in helping alleviate the unequal conditions many women faced in entering higher education.
Today, women still face unequal conditions in a society still run by men. Fortunately, many grants and scholarships are available today to help women pursue their college degree.
Pre-Qualifications
While there are many college grants and scholarship programs open to all women, most programs look for women who come from nontraditional or underrepresented backgrounds, such as minority women or women who are not U.S. citizens.
Most programs look for applicants with especially strong academic records and glowing recommendations, but other programs focus specifically on the financial-need of the applicant and her family. Given the great diversity of both private and public programs with differing applications and qualifications, most women can probably succeed in securing grant or scholarship funding if they search hard enough.
American Association of University Women
A top choice for women looking for college grants and scholarships is the American Association of University Women, or the AAUW. The AAUW is considered to be one of the largest sources of grants and scholarships for women looking to go to college.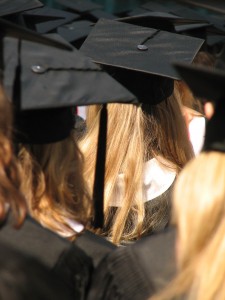 The program specifically looks for inspiring women who wish to pursue underrepresented careers, like teachers, scientists, and activists. The AAUW is especially interested in providing aid to financially distressed minority women.
AAUW college grants and scholarships are available for women pursuing both undergraduate and graduate studies. For example, the AAUW's Selected Professions Fellowship offers awards between $5,000 and $20,000 to women pursuing graduate studies in select, underrepresented fields.
The AAUW also sponsors International Fellowships to non-U.S. citizens who would like to pursue graduate education and research in the United States. Log onto the AAUW's website for a full list of the organization's many college grant and scholarship opportunities, along with application requirements and deadline details.
Jeannette Rankin Foundation
The Jeannette Rankin Foundation Women's Education Fund is a similar college grant opportunity for disadvantaged women aged 35 and older. The Fund awards $1,500 grants to qualifying applicants who can demonstrate their ambition and financial need. For more information, visit their website.
Many organizations are very interested in helping women pursue education in the field of science. For college applicants and current students interested in the sciences, including the natural sciences and physics, The Association for Women In Science is a terrific resource for college grants and scholarships. For more information on this program, visit their website .
Women interested in pursuing a career in the sciences should also consider the Women in Engineering and Computer and Information Science Awards that are sponsored by the National Science Foundation. These scholarships are available to women studying science, math, computer science, and engineering. For more information on this award, visit their website.
The Sunshine Lady Foundation
Many organizations also seek to provide aid to battered-women and victims of violence. These programs are crucial for women who want to leave abusive relationships. Without the financial aid these organizations provide, some women might otherwise be forced to remain with men who hurt them and their children.
One example is The Sunshine Lady Foundation, an organization that works to provide financial aid to victims of domestic violence through their Women's Independence Scholarship Program. This national program provides much needed assistance to women who have overcome domestic violence and want to pursue a college education.
For more information, visit their website. The R.O.S.E. Fund runs a similar college grant program for women who experienced violence. The R.O.S.E. Fund, however, gives first priority to women who have already completed at least a year of their college education. For more information, visit their website, rosefund.org. Another organization victims of violence might be interested in is the P.E.O. Program for Continuing Education.
The program provides financial assistance to needy applicants who postponed their college education to get their lives together, to support themselves, or to support their families. More information is available at their website.
Grants for the Arts
While it might seem all college grant opportunities are geared to women pursuing science education, there are several college scholarship funds in place for women interested in the arts. The College Art Association provides financial assistance to nontraditional graduate students in their second-to-last year of their educational program. More information is available on the association's website.
The National Sculpture Society also offers scholarships to students pursuing art degrees in sculpture. You can either e-mail the organization directly (info@nationalsculpture.org) or visit their website for additional program details.
Many women forget to check into professional organizations for college grant and scholarship information. What many women do not know is that these organizations usually have aid to give out, so women who are sure of their future career or major should look into their respective professional organization.
There are countless professional organizations in America; one example is the Society of Women Engineers. These college grants can sometimes be competitive, so women who actively participate in the organization are most likely to secure funding.
Another example is the Women Chefs and Restaurateurs. This high-profile organization awards both scholarships and internships to its members. More details are available at their website.
Minority Grants & Scholarships
While there are scholarships available for all women, most scholarships are most definitely interested in recruiting minority women. First of all, all applicable minority women should check in with the United Negro College Fund or the Hispanic College Fund. These two organizations are tremendous resources in procuring and securing college grants and scholarships for minority women.
Without a doubt, all African American and Latina women looking for college grant and scholarship opportunities should find them to be in abundance.
No matter what gender you are, it is always smart to apply for as many college grants and scholarships as possible. Women should not apply for one or two college grants and assume that they will win and secure funding.
Some of these college grants, especially those sponsored by better-known organizations, are extremely competitive and award funding to a very small percentage of applicants. If you find a scholarship that you qualify for, why not apply? Applying for a college scholarship or grant can never hurt you. In fact, the more grants you apply for, the better your chances of winning the financial aid you need to graduate with your degree.
College Grants for Women

,