College Grants for Adults
You have decided to take that brave step and dare to imagine the brighter future that could be yours with more education. There are many challenges waiting in store for those who choose to pursue higher education as an adult.
One of the biggest challenges is how to pay for it. If you are an average American, you are already carrying more debt than you wish you were. So, while college loans are a possibility, funding that you don't have to pay back is better.
There are college grants available for adults who want to return to school. You just have to know where to look.
Before Applying Be Prepared
The best way to insure that you will be able to avail yourself of grant funding for college is to be prepared. Both public and private sources will want to know all about you, your financial position, your personal background and your goals before deciding to award you money for college.
What you should gather in preparation for applying for college grants? If you start with the FAFSA (Free Application for Student Aid), available online, you will have most of the information collected that will be needed.
The process can be completed online. You will want to have your previous year's tax returns or at least your previous year's W-2 forms from your employers. You will be asked to report both your taxed and non-taxed income.
Non-taxed income might include things like veteran's benefits, child support and worker's compensation. If you are married, you will also want to have all this information for your spouse, as well. There are all sorts of calculators and worksheets on the FAFSA website to help you complete the form.
Where to Look: Government Grants
As strange as it seems, given our current economy, this is a great time for government grants for college. The demands on our workforce have changed dramatically over the past 50 years.
The government has an interest in educating its citizens to move from the job skills that gave them good employment at the beginning of their careers to the skills they will need to stay employed, now and in the future. The most popular grant available is the Federal Pell Grant. You are eligible for a Pell Grant if are a U.S. citizen, a college student and have yet to complete a bachelor's degree.
You must demonstrate financial need which you will do when filling out the FAFSA. Pell Grants are intended for those pursuing teacher certification or licensure. The U.S. Department of Education can provide a list of approved colleges, universities and programs where the grant can be used.
Where Else to Look: Private Grants
The government is not the only resource for grants. There are many private grants available for adults who want to return to school. The trick here is how and where to search for them. If you are a worker who has been displaced by new technology or jobs being exported overseas, there are private corporations and not-for-profit organizations that have funds available to grant. There are good directories available that list these sources.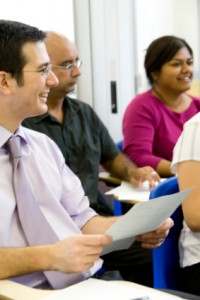 The various sets of qualifications are unique to each grant source and can seem enormously restrictive. They are by necessity very selective. These individual sources have limited funds to grant want to make sure they are given to those most qualified by their unique standards.
Displaced homemakers will also find grant money set aside just for them, as will single parents and members of certain associations, societies or clubs.
Closer to Home
You might be surprised to find several good sources for college money right in your own backyard. For example, does your employer offer tuition reimbursement as an employment benefit? You might have to find the initial funds to pay for the tuition up front, but upon successful completion, you may get all of it back under an employer's program. Many have specific grade or field of study requirements to qualify, but it is definitely worth the effort to check into it.
What about organizations you belong to? You might also check into your eligibility under yours or a family member's military service. Many grant programs are awarded to groups who fit a particular description, such as veterans, Native Americans, residents of areas in critical economic need, women, and so on.
Many of these sources are practically right in your backyard. Check with your local chamber, library, community college or university. A lot of information is available on the web, but there is a lot to be said for some in person contact.
What Not to Do
Where there is money, there are scams. Be very careful whom and how much you pay for information about grants and loans. The worldwide web can give you a false sense of security when ordering catalogs, grant and scholarship searches or other services advertising help for college. Not only that, but when you consider the information you will be asked for, it is not hard to imagine that it could be used for an identity fraud. Work only with reputable sources that you can verify.
How can you tell if a source is reputable? The Federal Trade Commission reports that scams of this kind sound very similar in their advertising. Those that try to convince you that the only source of the grant and scholarship data is the information resource they are selling, and that you won't have to do any work to get it are most likely scams and should be avoided at all costs.
The FTC even lists organizations who have been identified as scams. Before you plunk down your money for a catalog or service, check FTC.Gov for more information.
What Grants Cover and Don't Cover
Most grants will be very specific about what they cover. Some grants cover tuition and books, only. Others cover living expenses while you study. Still others may cover travel expenses for studies abroad. Check carefully not only for what grants cover, but if they will expect documentation of the covered expenses.
In many cases, the grant funds will be sent directly to your college of choice who may have requirements for withdrawal of funds not used directly for tuition. The best way to avoid rude surprises is to read the documentation for your grant carefully. If you do not understand the restrictions placed on use of the funds, meet with your college bursar who will most likely be able to explain it in plain terms.
Grants for Specific Professions
The greater the need in an area, the more grants money you may find available. For example, the shortage of nurses and nursing related professionals has been a problem for many years. There is such a strong demand, that different organizations are paying for people to become nurses. If healthcare is in your area of interest, this would be worth looking into.
The country is also in great need of teachers. If you can see yourself teaching children in the kindergarten through twelfth grade, you will also find assistance available.
In many cases, the benefits of choosing one of these professions extends beyond grant money for college. Many municipalities, for example, offer housing subsidies to teachers who want to own homes close to where they teach. As you are exploring your new life after college, look for what is most needed. There is where you will find the most resources.
Conclusion
Many of those who are energized by their decision to move forward in their lives through higher education get the wind taken out of their sails by the search for funding. It takes time, effort and perseverance.
And, it's worth it! A college education, once achieved is something that no one can ever take away from you. It is a permanent asset to your life, not only in your ability to earn a better income, but in the fulfillment of working at truly rewarding career.
College Grants for Adults

,